Officer Down in Hartford, Road Closures. Thoughts & Prayers to Hartford PD
Story courtesy of our news partner WFSB Channel 3 CLICK here for late-breaking updates
Right now as of 10:45 am these roads closed:
Talcott, Morgan, Market, Founders Bridge all closed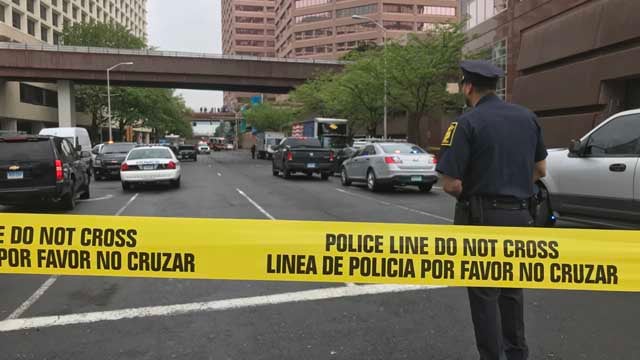 A female officer was stabbed in the neck after responding to an incident at Constitution Plaza in Hartford. (WFSB)
HARTFORD, CT (WFSB) -
An officer was stabbed while responding to an incident in Hartford on Thursday.
Deputy Chief Brian Foley confirmed the injury, which happened near Constitution Plaza.
A news conference will happen at Hartford Hospital soon. Stream it here.
Foley said a female officer was stabbed in the neck while investigating a disturbance.
A suspect is in custody.
Channel 3 received a number of phone calls about police swarming the area.
No other details were released.
Channel 3 has a crew headed to the scene.
Refresh this page and watch Channel 3 for updates.
Copyright 2018 WFSB (Meredith Corporation). All rights reserved.