Katy Perry & Mick Jagger Gyrating....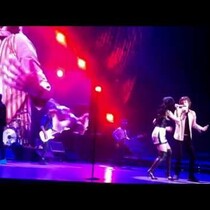 Posted May 13th, 2013 @ 8:47am
Pop superstar Katy Perry joined Mick Jagger and the Rolling Stones for a sexy rendition of "Beast of Burdon" on Saturday at the Las Vegas stop on the band's 50 and Counting tour. Fan footage showed the 28-year old thigh-high leather boot-wearing Perry bumping and grinding with the 69-year old Rock and Roll Hall of Fame frontman. Perry later tweeted: "Yes, I just did gyrated (sic) on Mick Jagger. WHAT?!" The Stones tour continues in Anaheim, CA this Wednesday.