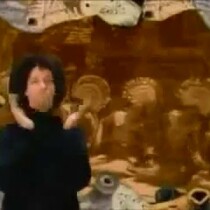 Posted March 12th, 2014 @ 7:18am
Welcome to the 80's at 8 blog, updated daily with each day's show content and the music videos for all the songs played! If your fondest childhood memory is when Skippy got his head stuck in the banister, if you ever wanted your own Robocop to fend off creeps in your city, if you were ever weirded out by the relationship between Henry and Punky Brewster, or if you love it when a plan comes together, you're listening to the right station; this is the 80s at 8 powered by Rock of Ages coming to the Palace Theatre March 21st and 22nd. We're kicking today's show off with a song that has been used in adds by many companies, reaching as far as New Zealand! From 1989 the B-52's "Roam"
From 1982 Joe Jackson "Breaking Us In Two" If you remember Roger Clemens before he did steroids, if you're undecided on the Roth/Hagar debate but "Gary Cherone" is not in your vocabulary, or if you knew from your first day at Sweet Valley High whether you were an Elizabeth or a Jessica, then you're in the right place; this is the 80s at 8 From 1983 Berlin "No More Words"
From 1987 Belinda Carlisle "Heaven Is a Place On Earth". If you know half of Jem's excitement and outrageousness came from her light up earrings, if it seems you can't be sure of anything anymore, or if you still remember all the lyrics to Fraggle Rock, then you're listening to the right station; this is the 80s at 8 From 1980 Devo "Whip It"
From 1980 Devo "Whip It" believe it or not, the guitar riff for that song was based on the riff from Roy Orbison's "Oh, Pretty Woman" Makes you want to go back and listen to both of those songs together. Here is the answer to the timeline, in which year did each of the following things take place?
Pac Man finally had an ally in his war against the ghosts as Ms. Pac Man was released.
Bob Barker began asking Price is Right audiences to help control the pet population.
& Indy wooed Animal House alum Karen Allen in Raiders of the Lost Ark in 1981. That year this song was released by a band called Seafood Mama but didn't become a hit until the following year, after changing their name..to Quarterflash. Here's "Harden My Heart"
From 1983 Quiet Riot "Cum On Feel The Noize" If you still have a crush on Lea Thompson even though she dated a duck, if you can explain the connection between a ballpoint pen and a cassette tape, or if you ever fantasized about Elizabeth Shue taking you on your own Adventures in Babysitting, then you're in the right place; this is the 80s at 8 From 1986 Paul Simon "You Can Call Me Al"
From 1989 Howard Jones "Everlasting Love" If you ever got to pose for a Polaroid with a cop and the Dare Bear, if the cutest Cosby will always be Rudy in your book or if you're sick of Nicolas Cage these days and just wish he would go back to marrying Peggy Sue or Raising Arizona, then you're listening to the right station; this is the 80s at 8 From 1986 Bananarama "Venus"