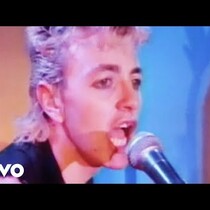 Posted September 3rd, 2014 @ 7:56am
Thanks for visiting the 80's at 8 blog, updated daily with each day's show content and the music videos for all the songs we played! If wore biker shorts under their skirts and felt stylish, if you owned both Underoos and Garanimals, if you thought your childhood friends would never leave because you exchanged handmade friendship bracelets, or if you remember New Kids on the Block when they were cool...and don't even flinch when people refer to them as "NKOTB", this is the show for you, it is the 80's at 8 powered by McDonalds, we kick off today's show with a song from 1982, the Rock and Roll Hall of Fame named this one of the 500 Songs that shaped Rock and Roll, here's "Rock This Town"
From 1983 Duran Duran "Is There Something I Should Know?" Your grandma was addicted to TAB cola, if you remember reading Tales of a fourth Grade Nothing and all The Ramona books, or if you wore stonewashed Jordache jean jackets and were proud of it, this is the place for you, it is the 80's at 8, now from 1984, Bananarama "Cruel Summer"
From 1988 When In Rome "The Promise" If you can sing the entire theme song to "Duck Tales" (Woo ooh!), if you made your mom buy one of those clips that would hold your shirt in a knot on the side, or if you still get the urge to say "NOT" after every sentence, you're in the right place, it is the 80's at 8, now from 1985 Animotion "Obsession"
Here is the answer to the timeline, in which year did the following three things take place?
William "the Refrigerator" Perry & The Chicago Bears did the Super Bowl Shuffle all over the New England Patriots 46-10 in Super Bowl XX.
Andy Griffith began his undefeated run as super criminal defense attorney Matlock.
& Danny Devito and Bette Middler taught Judge Reinhold and Helen Slater what it takes to be Ruthless People in 1986 and that year, Sly Foxx released this song that most people assumed is about getting it on… but it's actually a rant against Reagan-era politics.. here's "Let's Go All The Way"
From 1987 George Michael "Faith" If you have ever played with a Skip-It, if you had big hair and you knew how to use it, or if after you saw Pee-Wee's Big Adventure you kept saying "I know you are, but what am I?", you have the right station, this is the 80's at 8, now from 1983 Michael Jackson "Beat It"
From 1988 The Proclaimers "I'm Gonna Be (500 Miles)" If you're still trying to figure out what was up with Tammy Faye Baker's eyelashes, if you've ever been unfortunate enough to be a man with a perm, or if you've ever gotten physical with Olivia Newton John or sweated to the oldies with Richard Simmons, this is the show for you, it is the 80's at 8, from 1987 T'Pau Heart and Soul"
From 1989 Richard Marx with "Right Here Waiting" If you ever tried to convince your girlfriend to dress up as Jessica Rabbit for Halloween, if Michael Landon and Melissa Gilbert ever inspired you to revisit the Little House on the Prairie, or if you were only able to solve your rubix cube because you peeled off all the stickers, this is the show for you, it is the 80's at 8, from 1984 Autograph "Turn Up The Radio"