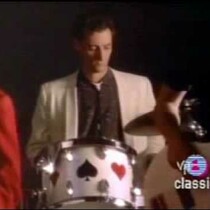 Posted September 27th, 2013 @ 8:27am
Thanks for visiting the 80's at 8 blog, updated daily with each day's show content and the music videos for all the songs we played! If you ever wore one half of a broken heart "Best Friends" necklace, if you ever programmed your Speak and Spell to say dirty words, if you can still remember the days when you hadn't heard "The Final Countdown" 8 million times, or if the cutest Cosby will always be Rudy in your book, you are in the right place, this is the 80's at 8, we get today's show started with a song from 1986 that was used in two movies, Gung Ho with Michael Keaton, and one of my favorite 80s movies, Tough Guys with Burt Lancester and Kirk Douglas. Here's The Fabulous Thunderbirds "Tuff Enuff"
From 1986 Glass Tiger "Someday" If anybody ever called you Baby and it didn't occur to you to mind, if you know exactly what could possibly go wrong with an innocent girl and a harmless drive, or if you miss the days that strange things were afoot at the Circle K, this is the show for you, it is the 80's at 8, From 1983 Cyndi Lauper "Girls Just Wanna Have Fun"
From 1982 Men Without Hats "The Safety Dance" If you ever thought you looked pretty cool flipping out your comb at the roller rink, If you ever wanted to join Janet Jackson's Rhythm Nation just for the outfits, or if you remember a time when there was nothing to question about Bert n' Ernie living together, you are on the right station, this is the 80's at 8, from 1986 Bananarama "Venus"
Here is the answer to the 80's timeline, in which year did the following things take place?
People thought Emmanuel Lewis might come between Michael Jackson and his Calvins when he brought the little guy and Brooke Shields to the Grammys.
Alex Trebek challenged his first contestant to answer in the form of a question as host of Jeopardy.
Kids everywhere learned never to feed a Mogwai after midnight as Gremlin fever took over the country, in 1984, and that year, Murray Head recorded this tune that was written by Tony award winner Tim Rice and two guys from ABBA for the musical Chess, here's "One Night In Bangkok"
From 1983 UB40 "Red Red Wine" If you ever thought it was tragic that Baywatch got nine seasons while ALF got only four, if you could be the Walrus, but you'd still have to bum rides off people, or if you want to be the one to walk in the sun, you are in the right place, this is the 80's at 8, from 1986 Robert Palmer "I Didn't Mean To Turn You On"
From 1989 Bangles, "Eternal Flame" If you were ever jealous of uncle Jesse's hair (or drum skills), if you remember the days when the Marlboro Man was allowed on TV commercials, or if you ever asked for a Ratt, a Scorpion, or a Whitesnake for a pet, this is the show for you, it is the 80's at 8, from 1982 Aldo Nova "Fantasy"
From 1985 Howard Jones "Things Can Only Get Better" If you love it when a plan comes together, if you watched too much "You Can't Do That on Television" and still can't bring yourself to say "I don't know" or "water" or if you ever wish Axl Rose would just shut up about Chinese Democracy and play Welcome to the Jungle again, this is the show for you, it is the 80's at 8, from 1980 Blondie "The Tide Is High"