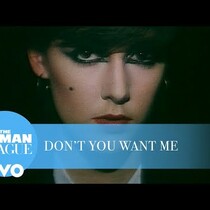 Posted September 2nd, 2014 @ 6:29am
Thanks for visiting the 80's at 8 blog, updated daily with each day's show content and the music videos for all the songs we played! If you still think your Ocean Pacific jacket was the height of style, if you know what the P stands for in "Alex P. Keaton", if you ever unironically wore Princess Leia buns, or if you ever put on side one of Led Zeppelin 4 with the hopes of making out, you are in the right place, this is the 80's at 8 powered by McDonalds, We kick off today's show with a song that was a number 1 hit for three weeks thanks to the video being in heavy rotation on MTV, from 1981 it's Human League "Don't You Want Me"
From 1985 Starship "We Built This City" on The River 105.9 If Emilio Estevez ever convinced you that a pair of wheels was all it took to be a man in motion, if you'll never forgive David and Maddie for the end of Moonlighting, or if you ever got shot down cause you were overzealous, this is the show for you, it is the 80s at 8. Now from 1983 Peter Schilling "Major Tom (Coming Home)"
From 1985 Katrina And The Waves "Walking On Sunshine" on the 80s at 8 If you remember the days when Dan Akroyd had one thing on his mind, and it was the Staypuft Marshmallow Man, if you remember when Glenn Close made the jump from dangerous liasion to fatal attraction, if you ever made frozen popsicles with fruit punch and an ice cube tray, or if you've ever stopped the world and melted with someone, this is the place for you, it is the 80's at 8, Now from 1985 Level 42 "Something About You"
Here is the answer to today's timeline. In what year did the following events take place?
Johnny Ramone suffered a near fatal head injury in a fight over a girl in front of his New York City apartment.
KISS appeared for the first time in public without makeup on MTV.
& Dan Akroyd became the most disgusting Santa ever when he traded places with Eddie Murphy. In 1983 That same year Duran Duran reissued their self titled album and landed their first hit in the US, here's "Is There Something I Should Know"
From 1984 Prince "I Would Die 4 U" on the 80s at 8. If you know Garfield's favorite snack is lasagna and ALF's favorite snack is Garfield, if you know it's "Risky Business" being chased by Guido the killer pimp or If you know man who catch fly with chopsticks accomplish anything, you're in the right place, this is the 80's at 8, Now from 1983 Michael Sembello "Maniac"
From 1987 Belinda Carlisle "Heaven Is A Place On Earth" If you know that only you and Smokey the Bear can prevent forest fires, if you know that workin 9 to 5 is all takin and no givin or If you know what the P stands for in "Alex P. Keaton", you're on the right station, this is the 80's at 8. Now from 1982 Rick Springfield "Don't Talk To Strangers"
From 1984 John Cafferty & The Beaver Brown Band "On The Dark Side" on The If you read every book in the Flowers in the Attic series, if you refer to all motorcycle cops as "Ponch," or If you remember Betty White as less of a cult comedy figure and more of just a dummy from St. Olaf, you're in the right place, this is the 80s at 8, Now from 1983 Cyndi Lauper "Girls Just Want To Have Fun"