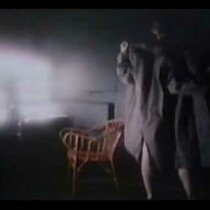 Posted August 27th, 2014 @ 7:55am
Welcome to the 80's at 8 blog updated daily with all the songs from the day's show. If you ever wished you could grab a snack and a drink at the Regal Beagle, if you ever wished your life was more like a Choose Your Own Adventure book, if you know exactly who you're gonna call when there's somethin strange in the neighborhood, or if you still look for opportunities to bust out the old keytar, you're in the right place. We kick off today's show with a song where original version was recorded in German by the Austrian singer Falco, who had a #1 hit in the US in 1986 with "Rock Me Amadeus." His version of "Der Kommissar" was a dance-floor favorite in Europe, but unlikely to crack the American charts, so Falco encouraged English-speaking bands to record this song so he could make inroads in the States. From 1982 here's After the Fire "Der Kommissar"
From 1982 Berlin "The Metro" If you still remember all the lyrics to Fraggle Rock, if you still remember how to do Balki Bartakamous's Dance of Joy, or if you still remember the days when Max Headroom was the height of computer animation, this is the show for you. Now from 1987 here's Richard Marx "Should've Known Better"
From 1983 The Fixx "One Thing" If you still remember when Scratch N Sniff stickers dominated every recess, if you still take relationship advice from VC Andrews, even though she died halfway through "Heaven," or if you still think Alex P. Keaton could have taught Andy a little something, you're in the right place. Now from 1980 Gary Newman with "Cars"
Here is the answer to the timeline, in what year did the following events take place?
The Soviet Union took a huge step forward in the Space Race with the completion of the Mir space station.
Cancelled TV show Remington Steele received one more season after its star, Pierce Brosnan, was offered the role of James Bond.
& Paul Reubens, otherwise known as Pee Wee Herman, voiced Max in Disney's Flight of the in 1986. That same year New Order released this hit which was featured in the movie Married to the Mob 2 years later, Here's Bizarre Love Triangle."
From 1983 Quiet Riot "Cum on Feel the Noize" If you think no one can ever dethrone Mary Lou Retton as America's Sweetheart, if you think the best possible revenge is boiling someone's bunny, or if you think the choice between Luke Skywalker and Han Solo is obvious, you're in the right place. Now from 1985 here's A-Ha "Take on Me"
From 1983 "Taco Puttin on the Ritz" If you watched too much "You Can't Do That on Television" and still can't bring yourself to say "I don't know" or "water," if you were a champ at games like "Inside Tina Yothers" or "Dead or Canadian" on MTV's Remote Control, or if you were actually proud that there was a Garbage Pail Kid with your name, you're in the right place. Now from 1989 the Fine Young Cannibals "She Drives me Crazy"
From 1989 Fine Young Cannibals She Drives Me Crazy. If you were ever jealous of uncle Jesse's hair (or drum skills), if you were ever tempted to create the perfect woman on your computer, or If you were ever tempted to serve a mug full of Drano to a high school rival, you're in the right place. Now from 1982 Moving Pictures "What About Me"