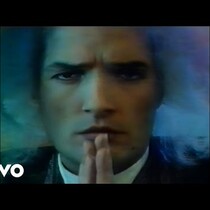 Posted March 7th, 2014 @ 7:07am
Welcome to the 80's at 8 blog, updated daily with each day's show content and the music videos for all the songs we've played! If you learned the facts of life from "Are You There God? It's Me Margaret", if you ever owned two or more denim jackets, if you still have the best collection of fingerless gloves on the block, or if you had so many swatches you couldn't fit them all on both your arms and legs, then you're listening to the right station; this is the 80s at 8 We're starting today's show off with a song from 1986 by Falco who was forced to dress up as Mozart and wear a rainbow colored powdered wig for the music video. Here's "Rock Me Amadeus"
From 1988 Edie Brickell and The New Bohemians "What I Am" If CC Deville ever convinced you it was okay to be a man in makeup, if you still get a hankering for a HandiSnack, or if you ever wanted to share a Baby Ruth with Sloth and Chunk, then this is the show for you; this is the 80s at 8 From 1983 Matthew Wilder "Break My Stride"
From 1983 Frankie Goes To Hollywood "Relax Come Fighting" If you ever wanted to take a spin on the Flight of the Navigator ship or Millennium Falcon, if you were ever tempted to serve a mug full of Drano to a high school rival, or if you've ever made a collage of Corey faces from cut up Bop magazines, then you're in the right place; this is the 80s at 8 From 1983 Kajagoogoo "Too Shy"
From 1983 Kajagoogoo "Too Shy" The video for that song featured lead singer Chris Hammil's friend Ali Espley in the music video who was not just Dennis Miller's girlfriend, but a Canadian supermodel. Here is a look at the timeline, in which year did each of the following things take place?
President Reagan sold the rights to his autobiography to Random House for 3 million dollars.
The season finale of Dallas found Bobby Ewing on his deathbed after being run over by his crazed ex-sister in law.
& Michael J. Fox hit 88 miles per hour and took us Back to the Future in the year's biggest movie in 1985.
That year Level 42 scored a worldwide hit with this song, but unfortunately, they'd never come close to success again.. ensuring their status as a one hit wonder.. here's "Something About You"
From 1984 Cyndi Lauper "She Bop" If you've ever given Long Duck Dong his props, if you remember a time when Charles was in charge, or if you ever gave someone your heart and they gave you a pen, then you're listening to the right station; this is the 80s at 8 From 1981 The Go Go's "We Got The Beat"
From 1985 ABC "Be Near Me" If you know Alf's girlfriend back on Melmac was Rhonda, if you'd take Teddy Ruxpin over Build a Bear any day, or if you've ever informed your flight attendant of your ability to speak jive, then you're in the right place; this is the 80s at 8 From 1985 John Parr "Naughty Naughty"
From 1984 Nena "99 Luftballoons" If you've ever been unfortunate enough to be a man with a perm, if Punky Brewster taught you the important lesson "never hide in an old fridge", or if you ever held out hope that Cliff and Claire would adopt you, then this you're listening to the right station; this is the 80s at 8 From 1983 Prince "Little Red Corvette"