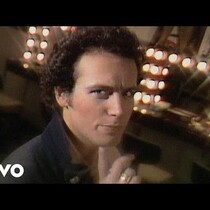 Posted March 6th, 2014 @ 6:36am
Welcome to the 80's at 8 blog, updated daily with each day's show content and the music videos for all the songs we've played! If anybody ever called you Baby and it didn't occur to you to mind, if you ever wonder why DJ Jazzy Jeff's kids never star in Karate Kid remakes, if you laugh at people who think Wham's "Careless Whisper" is entitled "Never Gonna Dance Again", or if you would ever sneak a Mogwai a post-midnight pizza, you're listening to the right station; this is the 80s at 8 We're kicking today's show off with a song by Adam Ant, who was tired of the press asking him questions about his personal life, so as an act of retaliation he wrote this. From 1982 here's "Goody Two Shoes"
From 1987 Crowded House "Something So Strong" If you were the idiot who cut yourself with a Slap Bracelet and got them banned from school, if you know that Goonies never say die, or if you ever read at night by the light of your Glow Worm, then you're in the right place; this is the 80s at 8 From 1986 Cutting Crew "I Just Died In Your Arms"
From 1984 Duran Duran "The Reflex" If you ever rigged up an entire game of Mousetrap without throwing it out the window, if you still think your Ocean Pacific jacket was the height of style, or if you begged your mom to buy you liquid center gum even though it caused cancer in lab rats, then this is the show for you; this is the 80s at 8 From 1983 Naked Eyes "Promises, Promises"
Here is the answer to today's timeline, in which year did each of the following things take place?
Walter Cronkite announced his retirement from the CBS evening news.
Ron Howard left Happy Days and his role as Richie Cunningham behind to pursue directing.
& Gene Wilder and Richard Pryor drove each other Stir Crazy as two men framed as bank robbers in 1980.
That same year also saw the release of a song that's an anti-war tune with a Gregorian chant! It just so happened that one of the band members WAS actually dating a Leah at the time. Here's Donnie Iris "Ah Leah"
From 1987 Richard Marx "Don't Mean Nothing" If you ever read George Orwell's 1984 because you were inspired by a Mac commercial, if you kept your fridge stocked with ice cold TAB for your friends, or if you have a dusty synth in the basement you tinker with from time to time, then this is the show for you; this is the 80s at 8 From 1983 "Suddenly Last Summer"
From 1986 Timbuk 3 "The Future's So Bright I Gotta Wear Shades" If you're still mad your mom wouldn't spring for a Designer Series Trapper Keeper, if you ever wanted to study "Quack Fu" under the tutelage of Howard the Duck, or if you ever made frozen popsicles with fruit punch and an ice cube tray, then this is the show for you; this is the 80s at 8 From 1985 A-Ha "Take On Me"