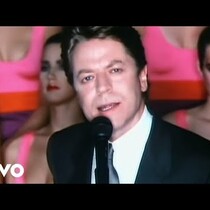 Posted March 4th, 2014 @ 6:28am
Welcome to the 80's at 8 blog, updated daily with each day's show content and the music videos for all the songs we've played! If you ever find yourself wishing that Scott Baio was in charge of your days and your nights, if you still do the gopher dance every time you hear the song from Caddyshack, if you know that Crispy Critters were indubitably delicious, or if you're still trying to figure out what was up with Tammy Faye Baker's eyelashes, this is the show for you; this is the 80s at 8, We're kicking today's show off with a song by Robert Palmer that had one of the most memorable music videos and featured Palmer reassembling the women in the music video who had made this song so memorable. From 1988 here's "Simply Irresistable"
From 1983 Taco "Puttin On The Ritz" If you're still mad because When Harry Met Sally convinced you Billy Crystal was hot, if you miss the days that strange things were afoot at the Circle K, or if you just want them to know they didn't break you, then you're in the right place; this is the 80s at 8 From 1985 Dream Academy "Life In a Northern Town"
From 1983 Naked Eyes "Always Something There To Remind Me" If you know exactly what it sounds like when the doves cry, if you like it hot and you sweat when the heat is on, or if you ever put on side one of Led Zeppelin 4 with the hopes of making out, then this is the show for you; this is the 80s at 8 From 1983 Huey Lewis "Heart and Soul"
From 1983 Huey Lewis "Heart and Soul" This song shot up the charts after it was used in the Pepe jeans commercials, but became the band's only top ten hit. Here is the answer to the timeline, in which year did each of the following things take place?
The Connors introduced TV to a new kind of American family with the premiere of Roseanne.
Eddie Murphy Came to America to find his queen with Arsenio Hall.
& former pop singer and Cher's other half Sonny Bono was elected mayor of Palm Springs, California, in 1988 That same year also saw the release of a song that is littered all across pop culture; if you've watched T.V. in the last 30 years, you've heard this song. Here's The Proclaimers "I'm Gonna Be 500 Miles"
From 1986 Peter Gabriel "Big Time" If you cried when Mary went blind on Little House on the Prairie, if you ever wished you could get trapped in a black and white cartoon video with A-Ha, or if you ever wonder what the Facts of Life would have been like if Molly Ringwald hadn't been written out after the first season, then you're listening to the right station; this is the 80s at 8 From 1980 Christopher Cross "Ride Like The Wind"
From 1985 Jefferson Starship "We Built This City" If you ever wanted to take a little nibble out of the Staypuft Marshmallow Man, if you're still bitter that Meatloaf missed out on Total Eclipse of the Heart or if anything in neon gets you excited, then you're listening to the right station; this is the 80s at 8 From 1986 The Bangles "Manic Monday"
From 1989 Fine Young Cannibals "Good Thing" If you've spent any time Right Here Waiting for Richard Marx's mullet, if you've ever asked someone whether they're the Keymaster or if you ever wished you could grab a snack and a drink at the Regal Beagle, then you're in the right place; this is the 80s at 8 From 1983 Peter Schilling "Major Tom Coming Home"