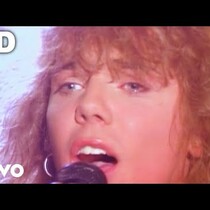 Posted March 11th, 2014 @ 7:38am
Welcome to the 80's at 8 blog, updated daily with each day's show content and the music videos for all the songs we've played! If you know never to stay in a hotel with Jack Nicholson even if it's just the Marriott, if you ever got to pose for a Polaroid with a cop and the Dare Bear, if you ever wanted to paint Elyse's jacket a color other than red during the Family Ties credits, or if you know more than one Michael Jackson joke, then you're listening to the right station; this is the 80s at 8. We're kicking today's show off with a song that was inspired by David Bowie's "Space Oddity" from 1986 Europe "The Final Countdown"
From 1986 Glass Tiger "Someday" If you know exactly who you're gonna call when there's somethin strange in the neighborhood, if you still can't imagine a world without John Lennon, or if you're not one to frown upon suspenders and bow ties, then this is the show for you; this is the 80s at 8 From 1986 Fabulous Thunderbirds "Tuff Enuff"
From 1986 The Bangles "Walk Like An Egyptian" Once again, Toni Basil was offered the song and turned it down. Her loss turned out to be The Bangles' gain. Here is the answer to the timeline, in which year did each of the following things take place?
Professional wrestler Jerry Lawler and professional prankster Andy Kaufman staged a fight on Late Night with David Letterman.
Princess Grace died when her car veered off a mountain road.
& Mr. T coined the phrase that made him famous, "I pity the fool," as Clubber Lang in Rocky III in 1982 That same year also saw the release of a song that kept Michael Jackson from having back to back chart toppers with "Billie Jean" and "Beat It". Here's Dexy's Midnight Runners "Come On Eileen"
From 1982 A Flock of Seagulls "I Ran So Far Away" If you remember when gas was $1.00 a gallon, and that was expensive, if you ever professed your love for KISS on your lunchbox, or if you ever accused someone of spreading cooties, then this is the show for you; this is the 80s at 8 From 1981 Hall and Oates "Private Eyes"
From 1987 Belinda Carlisle "Mad About You" If you ever bought a neon pink bottle of Debbie Gibson's Electric Youth perfume, if Head of the Class taught you the Russkies weren't that bad with its famous trip to Moscow, if you ever spent any time dancing on the ceiling with Lionel Richie, or if you were a champ at games like "Inside Tina Yothers" and "Dead or Canadian" on MTV's Remote Control, then you're listening to the right station; this is the 80s at 8 From 1984 Autograph "Turn Up The Radio"
From 1987 Richard Marx "Should've Known Better" If you think Geena Davis deserves a Lifetime Achievement Award for Beetlejuice, The Fly and Earth Girls Are Easy, if you ever wanted to go to a Big Fun concert, if you always cheered louder for the moonwalking Whammy than for the actual Press Your Luck contestants, or if you cobbled together a hideous pink prom dress from three other hideous pink prom dresses, then you're in the right place; this is the 80s at 8 From 1986 Sly Fox "Let's Go All The Way"