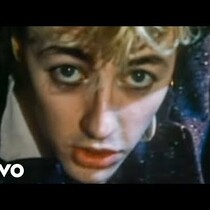 Posted February 21st, 2014 @ 7:49am
Welcome to the 80's at 8 blog, updated daily with each day's show content and the music videos for all the songs we've played. If Meg Ryan ever inspired you to have all your sauces on the side, If Michael Landon and Melissa Gilbert ever inspired you to revisit the Little House on the Prairie, If Jay Leno still makes you want to snack on Doritos, or If news reports on killer bees remind you of John Belushi, then you're in good company; it is the 80's at 8, powered by Rock of Ages, they'll be at the Palace Theatre on March 21st and 22nd. Today's show starts with a song featuring a guitar sole that Guitar Magazine ranked #92 best of all time. From 1982 Stray Cats "Stray Cat Strut"
From 1984 Tina Turner "What's Love Got To Do With It?" If you don't want to sell anything, buy anything or process anything as a career, If you don't care if it's a cherry or a Coke slushie, as long as it's with Christian Slater, or If you don't believe in the Beatles, you just believe in me, then this is the show for you; it is the 80's at 8, and from 1985 Howard Jones "Things Can only Get Better"
From 1986 Cutting Crew "(I Just) Died In Your Arms" If you ever gave someone your heart and they gave you a pen, If you ever gave your panties to a geek, or if you ever gave someone a severe case of the cooties, then you're in the right place; this is the 80's at 8, and from 1984 Bananarama "Cruel Summer"
Here is the answer to the 80's at 8 timeline, in what year did the following things happen?
The Energizer Bunny released his manic energy in the world.
Michael Landon made his last appearance as an angel on probation in Highway to Heaven.
& Sensitive men everywhere rejoiced over the release of movies like Born on the Fourth of July, Glory and My Left Foot…in 1989. That same year saw the release of the song The Discovery Channel used in its own television commercials throughout the late 1990s as well as Subaru of New Zealend. Weird. From the B-52's here's "Roam"
From 1983 Mathew Wilder "Break My Stride" If you ever thought it was tragic that Baywatch got nine seasons while ALF got only four, If you ever thought it perfectly acceptable that Andrew McCarthy ended up with a Mannequin, or If you ever thought it was a good idea to force your wedding party into making its entrance to Thriller, then this is the show for you; it is the 80's at 8, and from 1985 Scritti Politti "Perfect Way"
From 1983 The Motels "Suddenly Last Summer" If you ever wanted to go to a Big Fun concert, If you ever wanted to go to the Head of the Class with Robin Givens, If you ever wanted to grab a hot dog with Ferris and Cameron at Wrigley, or If you ever wanted to install a dumbwaiter in your house so you could be just like Webster, then this is the show for you; it is the 80's at 8, and from 1982 Aldo Nova "Fantasy"