80s at 8 for 2-14-14 Happy V-Day!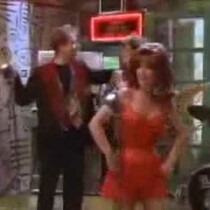 Posted February 14th, 2014 @ 7:06am
Thanks for visiting the 80's at 8 blog, updated daily with each day's show content and the music videos for all the songs we played! If you're still trying to figure out who shot JR on Dallas, if you've been tempted to try a Captain Crunch and Mayo sandwich with pixie sticks, if you still remember the days when Max Headroom was the height of computer animation or If you know that Crispy Critters were indubitably delicious, then you're listening to the right station; this is the 80s at 8 powered Neil Finn from Crowded House at The Shubert Theater on April 10th. We're starting today's show off with a song by the B-52s that became their first top ten hit in the U.S. Here's "Love Shack"
From 1984 Wang Chung "Dance Hall Days" If you know from experience that a little Love's Baby Soft goes a long way, if you refer to all motorcycle cops as Ponch or if you've ever made a collage of Corey faces from cut up Bop magazines, you're in the right place; it's the 80s at 8 From 1982 Chicago "Hard To Say I'm Sorry"
From 1988 Edie Brickell and The New Bohemians "What I Am" If you have a dusty synth chilling in your basement that you still tinker with from time to time, if you think of twins whenever someone offers you a stick of gum or if you'd happily bypass the Call of Duty for an old fashioned Duck Hunt, then this is the show for you; it's the 80s at 8 From 1982 After the Fire "Der Kommissar"
Here is the answer to today's timeline, in which year did each of the following things take place?
Major League Baseball players began a 49 day strike over the issue of free-agent compensation.
Olivia Newton John donned spandex and leg warmers to get Physical for one of the first music videos.
& Indiana Jones wooed Animal House alum Karen Allen in Raiders of the Lost Ark in 1981, and that year, this band that originally was called Seafood Mama, changed its name to an Australian slang word for immigrants, Quarterflash, and scored their first hit, here's "Harden My Heart"
From 1982 Duran Duran "Hungry Like The Wolf" If you've ever danced around a junior high gym to Buster Poindexter's Hot Hot Hot, if you know that Melvilles was the Restaurant upstairs from Cheers or if you ever wanted to grab a hot dog with Ferris and Cameron at Wrigley, then this is the show for you; it's the 80s at 8 From 1984 Prince "Would Die 4 U"
From 1981 Human League "Don't You Want Me" If you ever wanted to paint Elyse's jacket a color other than red during the Family Ties credits, if you ever wanted to study "Quack Fu" under the tutelage of Howard the Duck, if you still can't decide whether you'd rather cruise around town in a time-traveling DeLorean or KITT or if you remember Roger Clemens before he did steroids, then you're listening to the right station; it's the 80s at 8 From 1984 Autograph "Turn Up The Radio"