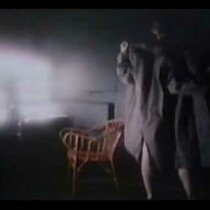 Posted January 30th, 2014 @ 7:56am
Welcome to the 80s at 8 blog, updated daily with today's show content and the music videos for all the songs we've played. If you ever relaxed just because Frankie told you to, if you ever held out hope that Cliff and Claire would adopt you, if you keep Steve Martin's speech to Mrs. Poole handy for dealing with incompetent customer service reps, or if you think inflation should allow Miss Mary Mack more than fifty cents to see those elephants, then this is the show for you; It's the 80s at 8 powered by Lost Egypt at The CT Science Center. We're starting today's show with a song whose title means "Is Everything OK officer?" From 1982 here's After the Fire with "Der Kommissar"
From 1984 The Go-Go's "Head Over Heels" If you still want to give a paternity test to My Two Dads, if you think Dolph Lundgren was denied an Oscar for both He-Man and Ivan Drago, or if you'd still follow Tiffany to the mall and back, then you're listening to the right station; it's the 80s at 8 From 1981 Human League "Don't You Want Me"
From 1988 The Proclaimers "I'm Gonaa Be (500 Miles)" If you'll never eat rabbit because Fatal Attraction gave you nightmares, if you're on a mission and you're wishing someone could cure your lonely condition, or if you're too busy rocking your parachute pants to notice a sale on skinny jeans, then this is the show for you; it's the 80s at 8 From 1987 Kim Wilde "You Keep me Hangin On"
Here is the answer to today's timeline In which year did each of the following things take place?
Roger Moore became James Bond for the fifth time in For Your Eyes Only.
Luke and Laura made daytime television history with the highest rated hour in soaps when they married on General Hospital.
& Mark David Chapman was sentenced to 20 years to life for the murder of John Lennon, in 1981, and that same year also saw the release of a song that guitar legend Eddie Van Halen was later accused of stealing for his hit "Jump", here's Hall and Oates "Kiss On My List"
From 1982 Eddy Grant "Electric Avenue" If you're still wondering when Rodney Dangerfield is gonna get some respect, if you still remember all the lyrics to Fraggle Rock, or if you knew that Arnold Jackson had a goldfish named Abraham and a terrible fear of the Gooch, then you're in the right place; it's the 80s at 8 From 1984 Wang Chung "Dance Hall Days"
From 1989 Fine Young Cannibals "Good Thing" If you know half of Jem's excitement and outrageousness came from her light up earrings, if you still can't decide whether you'd rather cruise around town in a time-traveling DeLorean or KITT, or if you're a fan of 30 Rock not because of Tina Fey and Alec Baldwin but because of Eddie Murphy's Stevie Wonder and Joe Piscopo's Frank Sinatra, then this is the show for you From 1983 Wall of Voodoo "Mexican Radio"