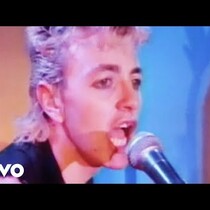 Posted January 29th, 2014 @ 7:54am
Welcome to the 80's at 8 blog, updated daily with today's show content and the music videos for all the songs we've played. If Ferris Bueller ever inspired you to study computer science or art history, if you ever Did the Right Thing just because Spike Lee told you to, if you don't care if it's a cherry or a Coke slushie as long as it's with Christian Slater, or if you ever thought it was a good idea to force your wedding party into making its entrance to Thriller, then you're listening to the right station; it's the 80s at 8 powered by Lost Egypt at the CT Science Center! We're kicking today off with a song from that has been listed by the Rock and Roll Hall of Fame as one of the 500 songs that shaped Rock and Roll. From 1982 Stray Cats "Rock This Town"
From 1982 Culture Club "Time (Clock of the Heart)" If you ever tried to convince your girlfriend to dress up as Jessica Rabbit for Halloween, if you ever stashed the tiny key to your diary in the pocket of your Popple, or if you remember Johnny Depp not for Pirates of the Caribbean but for 21 Jump Street, then this is the show for you; it's the 80s at 8 From 1985 Scritti Politti "Perfect Way"
From 1985 Katrina and The Waves "Walking On Sunshine" If you remember the days when the Black Eyed Peas' Fergie was just plain "Stacy" in Kids Incorporated, If you still want to take a Vacation with Chevy Chase to Wally World, or if you were actually proud that there was a Garbage Pail Kid with your name, then you're in the right place; it's the 80s at 8 From 1983 Duran Duran "Union of the Snake"
Here is the answer to today's timeline, in which year did each of the following things take place?
Madonna filed assault charges against then-husband Sean Penn days before the release of Like a Prayer.
The Connors introduced TV to a new kind of American family with the premiere of Roseanne.
& Eddie Murphy Came to America to find his queen with Arsenio Hall in 1988 That same year also saw the release of a song that was a hit when it was first came out, but did even better the next year, when it was re-released with a brand new music video. Here's Johnny Hates Jazz "Shattered Dreams"
If you were ever dared to say "Beetlejuice" three times at a sleepover, if you remember crunching through algebra class with nothing but a pencil and paper or if you snuck a copy of "Are You There God? It's Me, Margaret" to school in your backpack, which was only cool if you wore it over one shoulder, then you're listening to the right station; it's the 80s at 8 From 1989 Howard Jones "Everlasting Love"
From 1987 George Michael "Faith" If you think no one can ever dethrone Mary Lou Retton as America's Sweetheart, if your parents bought your Cabbage Patch Kid out of the back of a van, or if you're constantly torn between the highway to heaven and the highway to the danger zone, then this is the show for you; it's the 80s at 8 From 1983 Michael Jackson "Beat It"
From 1986 The Fabulous Thunderbirds "Tuff Enuff" If you still can't decide whether Tony or Angela was really the boss, if you want to be the one to walk in the sun, or if you still think your Ocean Pacific jacket was the height of style, then you're on the right station; it's the 80s at 8 From 1984 Murray Head "One Night In Bangkok"