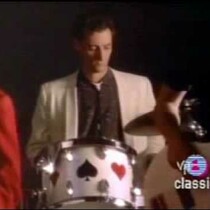 Posted December 13th, 2013 @ 7:50am
Welcome to the 80's at 8 blog, updated daily with each day's show content and the music videos for all the songs we've played! If you've ever matched a pastel shirt with a white suit and sockless loafers, If you've ever unironically worn your sunglasses at night, If you've ever wanted to start a Babysitters Club of your own, or If you've ever used the word "inconceivable!" and you still don't know what it means, this is the show for you; it is the 80's at 8! We're starting off the show today with a song that was used in two movies in 1986, Gung Ho with Michael Keaton, and one of my favorite 80s movies, Tough Guys with Burt Lancester and Kirk Douglas.. here's the Fabulous Thunderbirds "Tuff Enuff"
From 1983 Big Country "In A Big Country" if you know exactly which Hollywood Square Jim J. Bullock was in, If you know exactly what Miss Mary Mack was wearing, or If you know exactly what it sounds like when the doves cry, you're on the right station; this is the 80's at 8, from 1981 The Go-Go's "We Got The Beat"
From 1985 Level 42 "Something About You" If you know never to admit you're Sarah Connor, even if the former governor of California is asking, if you know never to stay in a hotel with Jack Nicholson, even if it's just the Marriott or If you know not to take Levar Burton's word for anything, you're in the right place; this is the 80's at 8, from 1983 Naked Eyes "Promises, Promises"
This is the answer to the 80's timeline, in what year did the following things take place?
England and France announced plans to build the Chunnel under the English Channel.
An Alien Life Form better known as ALF crash landed in the Tanners' suburban garage and stayed for four years.
& Paul Newman taught Tom Cruise the art of pool hustling in The Color of Money, in 1986, and that year, Peter Gabriel released one of his least subtle songs, practically hitting you over the head with symbolism. Here's "Big Time"
From 1981 Hall & Oates "Private Eyes" If you ever wanted to snuggle up to Harry and the Hendersons, If you ever wanted to share an Orange Julius with Tiffany at the mall, or If you ever wanted to study "Quack Fu" under the tutelage of Howard the Duck, this is the show for you; it is the 80's at 8, from 1983 Cyndi Lauper "Girls Just Want to Have Fun"
-
From 1983 Taco "Puttin' on the Ritz"
From 1983 UB40 "Red Red Wine" If you ever wish Axl Rose would just shut up about Chinese Democracy and play Welcome to the Jungle again, if you ever wish Ferris were there to get you out of summer school, or If you ever wish Dr. Heathcliff Huxtable himself would just stop by for a Puddin' Pop, you are in the right place; this is the 80's at 8, from 1982 Frida "I Know There's Something Going On"