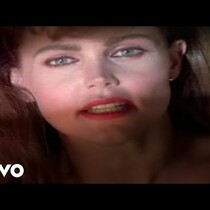 Posted January 13th, 2014 @ 7:58am
Welcome to the 80's at 8 blog, updated daily with each day's show content and the music videos for all the songs played. If you cobbled together a hideous pink prom dress from three other hideous pink prom dresses, if you could never be a vegetarian because you'd always be asking "Where's the beef?", If you don't want to sell anything, buy anything or process anything as a career, or If you could be the Walrus, but you'd still have to bum rides off people, this is the show for you; it is the 80's at 8! We're kicking off today's show with a song whose video was directed by actress Diane Keaton and features children wearing black masks and a cape while each of them holds an illuminated plastic globe. From 1987 Here is Belinda Carlisle "Heaven Is A Place On Earth"
From 1986 Peter Gabriel "Big Time" If you ever got to pose for a Polaroid with a cop and the Dare Bear, If you ever indulged in a little too much Aquanet, If you ever made anything in an Easy Bake oven or had a Sno-Cone with Snoopy, or If you ever got in trouble for making a slam book, you're in the right place; it is the 80's at 8, from 1982 A Flock Of Seagulls "I Ran (So Far Away)"
From 1983 Todd Rundgren "Bang The Drum All Day" If you ever thought it was a good idea to force your wedding party into making its entrance to Thriller, If you ever thought it was tragic that Baywatch got nine seasons while ALF got only four, or If you ever thought you looked pretty cool flipping out your comb at the roller rink, this is the show for you; it is the 80's at 8, from 1980 Donnie Iris "Ah! Leah!"
Here is the answer to the 80's timeline, in what year did the following things happen?
6.5 million people held Hands Across America to raise money to fight hunger and homelessness.
An actor from soap opera All My Children popularizerd the phrase "I'm not a doctor, but I play one on TV" in a Vicks ad.
& Oliver Stone teamed up with Charlie Sheen to show the world the horror of the Vietnam War in Platoon, in 1986, and that year saw the release of Bananarama's second MTV hit, the girls got plenty of air time showing more of a sexy side than their famous tomboy "Cruel Summer" style. Here's "Venus"
From 1987 Johnny Hates Jazz "Shattered Dreams" If you know exactly what Miss Mary Mack was wearing, if you know exactly which Hollywood Square Jim J. Bullock was in, if you know exactly who you're gonna call when there's something strange in the neighborhood, or If you know exactly what could possibly go wrong with an innocent girl and a harmless drive, you are on the right station; this is the 80's at 8, from 1986 Europe "The Final Countdown"
From 1985 Level 42 "Something About You" If you ever owned a piece of frosted denim…or get a hankering for some Ecto Cooler Hi-C, you are in the right place; it is the 80's at 8, from 1984 Prince "When Doves Cry"
From 1984 Twisted Sister "We're Not Gonna Take It" If you ever wanted to share an Orange Julius with Tiffany at the mall, If you ever wanted to share a Baby Ruth with Sloth and Chunk, or If you ever wanted to party with Lewis Skolnick and the rest of the Tri-Lambs, this is the show for you; it is the 80's at 8, from 1983 Thompson Twins "Hold Me Now"