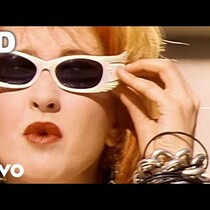 Posted November 26th, 2013 @ 7:57am
Welcome to the 80's at 8, updated daily with each day's show content and the music videos for all the songs we played! If anything in neon gets you excited, if you remember when Blockbusters was huge and everyone thought there was no way it would go out of business, if you remember when there were cozy little coffee shops everywhere instead of giant chains pretending to be cozy little coffee shops, or if I say "please don't squeeze…" you'll finish the sentence…and you'll want to stab me, this is the show for you, this is the 80's at 8. We're kicking off today's show with a song from 1983 that established Cyndi Captain as a pop princess and a darling of wrestling fans everywhere when she cast Captain Lou Albano as her dad in the video.. here's "Girls Just Want to Have Fun"
From 1983 David Bowie "China Girl" if you've ever taken a bath with Mr. Bubble, If you've ever spent more than five minutes trying to explain the premise of Weekend at Bernie's to someone, or If you've ever made a collage of Corey faces from cut up Bop magazines, you're in the right place; this is the 80's at 8, from 1989 Howard Jones "EverlastingLove"
From 1982 Stray Cats "Stray Cat Strut" If your three main rules are not to cross the streams, to never feed a Mogwai after midnight or to say Beetlejuice three times, or If your dreams are plagued by the ghosts of Pac Man, you are on the right station; this is the 80's at 8, from 1983 Peter Schilling "Major Tom (Coming Home)"
Here is the answer to the 80's at 8 timeline, in what year did the following things happen?
Heather Locklear, then the star of TV's T.J. Hooker, showed an early penchant for rocks stars when she married Tommy Lee.
An Alien Life Form better known as ALF crash landed in the Tanners' suburban garage and stayed for four years.
& Tom Cruise felt the need for speed in that year's biggest blockbuster with Top Gun, in 1986, and that year, Prince passed this song over to the Bangles, he had written it for the band Apollonia 6 two years earlier, but they never recorded it, and their loss ended up being the Bangles gain, it was their first hit… Here's "Manic Monday"
From 1982 The Go-Go's "Vacation" If your parents denied you a dog in the hope that you'd be happy with pet rocks and sea monkeys, If you're still a little freaked out by Legend, The Dark Crystal or The Last Unicorn, If you're sick of Nicolas Cage these days and just wish he would go back to marrying Peggy Sue or Raising Arizona, or If you're still wondering when they're going to have a Kids Incorporated reunion show, this is the show for you; It is the 80's at 8, from 1983 Berlin "No More Words"
From 1986 New Order "Bizarre Love Triangle" If you've ever been called a brain, an athlete, a basket case, a princess or a criminal, If you've ever been tempted to follow up a dangerous liaison with a fatal attraction, or If you've ever been tempted to go ahead and cross the streams, you are on the right station; It is the 80's at 8, from 1982 Madness "Our House"
From 1988 The Proclaimers "I'm Gonna Be (500 Miles)" If you waited to make the move from cassettes to something else until 2005, and you only did it because your car doesn't have a tape deck, if the hardest decision you made on a daily basis was leather or denim, if you can explain the connection between a ballpoint pen and a cassette tape, or if you're afraid to feed your pet after midnight in case it's a Mogwai in disguise, you are in the right place, this is the 80's at 8, from 1982 Adam Ant "Goody Two Shoes"