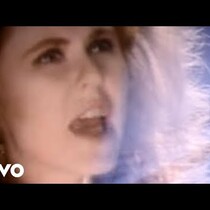 Posted November 22nd, 2013 @ 8:31am
Thanks for visiting the 80's at 8 blog, updated daily with each day's show content and the music videos for all the songs we played! If Ronald Reagan ever convinced you that ketchup was a vegetable, if Eric Stolz is the guy for you despite that creepy Mask, if you were around when OJ's worst offense was crummy acting, or if you ever wore less makeup than your boyfriend, you are in the right place, this is the 80's at 8, we kick off today's show with a song from 1987 that became a big hit after it was used in a Pepe jeans commercial, here's T'Pau Heart and Soul"
From 1982 Eddie Grant "Electric Avenue" If you ever considered naming a baby Bastian or Atreyu, if you're still mad your mom wouldn't spring for a Designer Series Trapper Keeper, or if you can name at least three of the five original MTV VJs, and one of them isn't Martha Quinn, this is the show for you, it is the 80's at 8, from 1980 Donnie Iris "Ah! Leah!"
From 1982 Culture Club "Time Clock of the Heart" If now you know, and knowing is half the battle, if you're ever tempted to order a glass of something from the Falcon Crest Winery, or if you've ever informed your flight attendant of your ability to speak jive, you are on the right station, this is the 80's at 8, from 1981 Human League "Don't You Want Me"
Here is the answer to today's timeline, in which year did the following things take place?
Geraldo Rivera hosted a live, 2 hour syndicated special, The Mystery of Al Capone's Vault, and famously came up empty handed.
An Alien Life Form better known as ALF crash landed in the Tanners' suburban garage and stayed for four years.
& Matthew Broderick taught high schoolers everywhere that the key to faking out the parents is the clammy hands in Ferris Bueller's Day Off, in 1986, and that year, Timbuk 3 released this song that everyone assumed was about all the awesome things they were going to be doing, but it's actually about the impending end of the world… kind of a bummer.. here's "The Future's So Bright (I Gotta Wear Shades)"
From 1983 Naked Eyes "Always Something There To Remind Me" If you know better than to make a wish on a Zoltar machine, if you ever used a Cyndi Lauper video as an excuse to rally the girls for drinks, or if you still remember how to do Balki Bartakamous's Dance of Joy, this is the show for you, it is the 80's at 8,from 1985 Loverboy "Lovin' Every Minute of It"
From 1986 Peter Gabriel "Big Time" If you ever French-rolled your pants as a kid because..well, everyone else did, if you were the kid in school that people thought was positively crawling with cooties, or if you're always disappointed when you hit 89MPH on the highway but don't travel through time, you are on the right station, this is the 80's at 8, from 1988 Fine Young Cannibals "Good Thing"