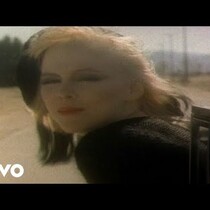 Posted October 31st, 2013 @ 7:41am
Welcome to the 80's at 8 blog, updated with each day's content and the music videos from all the songs we played! If you know what the connection is between a ballpoint pen and a cassette tape, if the World Wide Web sounds like cheap Halloween cobwebs on a globe, if the thought of taking your own van to Aspen sounds great, just so long as it looks like a sheepdog, or if you asked your high school science teachers whether or not a flux capacitor can exist within the laws of physics, then this is the show for you, It is the 80's at 8 Powered by DanielsEnergy.com, and we kick off today's show with a song by Berlin, who's lead singer Terri Nunn left temporarily to break out on her own, although she eventually came back, she found the time to appear on TJ Hooker and to audition for the role of Princess Leia! From 1983 "No More Words"
From 1981 Kim Wilde "Kids In America" If you'd rather be a Greaser than a Soash, If you ever asked for a Ratt, a Scorpion, or a Whitesnake for a pet, or if you know that Goonies never say die, then you're in the right place It is the 80's at 8, and from 1980 Devo "Whip It"
From 1986 Belinda Carlisle "Mad About You" If you've ever made a collage of Corey faces from cut up Bop magazines, If you've ever given Long Duck Dong his props, and If you learned about the birds and the bees from an ABC after school special, this is the show for you, It is the 80's at 8, from 1983 Mathew Wilder "Break My Stride"
Here is the answer to the timeline, in what year did all these things happen?
A major nuclear meltdown at the Soviet Union's Chernobyl power station put the world on high alert.
An actor from soap opera All My Children popularized the phrase "I'm not a doctor, but I play one on TV in a Vicks Ad.
Paul Newman taught Tom Cruise the art of pool hustling in The Color of Money, in 1986. That same year Sly Foxx released a song that, while most people thought it was about going past third base, was actually an anti-war anthem. Here's "Let's Go All The Way"
From 1984 John Cafferty & The Beaver Brown Band "On The Dark Side". If you miss the days when John Travolta had never heard of Scientology and just wanted to dance, If you have still have a favorite Misfit, Care Bear, My Little Pony, and If you ever made frozen popsicles with fruit punch and an ice cube tray, you are on the right station, this is the 80's at 8, from 1981 Hall and Oates "Private Eyes"
From 1982 Aldo Nova "Fantasy" If you ever rigged up an entire game of Mousetrap without throwing it out the window, If you ever saved yourself from a biker brawl by hopping on a bar and dancing to "Tequila", and If you ever stuck someone with the defective hippo because you knew it wasn't hungry hungry enough, you are in the right place, this is the 80's at 8, from 1984 Prince & The Revolution "I Would Die 4 U"
From 1983 Taco "Puttin' On The Ritz" If you ever picked the wrong week to stop sniffing glue, If you ever convinced your mom to buy you liquid center gum even though it causes cancer in lab animals, If you can name at least three of the five original MTV VJs, and one of them isn't Martha Quinn, and If you always think the force is with you, this is the show for you, It is the 80's at 8, and from 1987 Richard Marx "Should've Known Better"