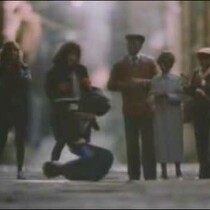 Posted October 30th, 2013 @ 6:28am
Welcome to the 80's at 8 blog, updated daily with today's show content and the music videos for all the songs we played! If you can dance if you want to, and you can leave your friends behind, if the thought of total protonic reversal gives you the heebie-jeebies, if anybody ever called you Baby and it didn't occur to you to mind, or if Meg Ryan ever inspired you to have all your sauces on the side, then this is the show for you. It is the 80's at 8 powered by DanielsEnergy.com, and we are kicking off today's show with a song inspired by a 1980 horror film of the same name, and was used in the 1983 movie Flashdance because they desperately needed music for the movie.. here's Michael Sambello "Maniac"
From 1987 Crowded House "Something so Strong" If you've ever informed your flight attendant of your ability to speak jive, If you're still mad because When Harry Met Sally convinced you Billy Crystal was hot, or If you think no one can ever dethrone Mary Lou Retton as America's Sweetheart, you are in the right place, this is the 80's at 8, from 1986 The Bangles "Manic Monday"
From 1989 The B-52's "Roam" If your taste buds know the difference between Juicy Juice and Capri Sun, If you're still waiting for Kermit and Piggy to take you on a Great Muppet Caper, or If you've ever had the urge to bake Molly Ringwald a birthday cake with 16 Candles, you are on the right station, this is the 80's at 8, from 1982 Duran Duran "Rio"
Here is the answer to the timeline, in which year did the following things take place?
The Supreme Court ruled that using a VCR to tape television shows did not violate copyright law.
Farrah Fawcett starred as a woman who killed her abusive husband in the fact-based TV movie The Burning Bed.
Steven Spielberg met future wife Kate Capshaw while directing her and Indiana Jones in the Temple of Doom, in 1984, and that year, Bananarama scored a huge hit, but not until after this song was used in the movie The Karate Kid. Here's "Cruel Summer"
From 1988 Edie Brickell and the New Bohemians "What I Am" If you'd still follow Tiffany to the mall and back, If you'd take Teddy Ruxpin over Build a Bear any day, or If you'd throw Super Walmart over any day for KMart, Zayres or Caldor, then you're the right place, this is the 80's at 8, from 1989 Howard Jones "Everlasting Love"
From 1985 Prince and the Revolution "Raspberry Beret" If you want to be the one to walk in the sun, If your emotions are still conflicted over Milli Vanilli being forced to give up their Grammy, or If you're hoping to have a baby girl someday so you can pass on all your Sweet Valley High books and Care, this is the show for you. It is the 80's at 8, and from 1985 Til' Tuesday "Voices Carry"