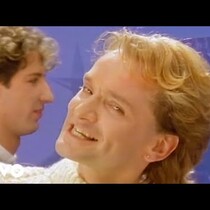 Posted October 10th, 2013 @ 8:13am
Thanks for visiting the 80's at 8 blog, updated daily with each day's show content and the music videos for all the songs we played! If you still think John Candy could have finished The Old 96er in The Great Outdoors, If you still dream of getting your friends together to find One Eyed Willy's treasure, if your first ever car resembled the Family Truckster after it went to wally world and not before, or if you were only ever able to solve your Rubik's Cube once you peeled all the stickers off, then this is the show for you, it's the 80s at 8 and we hit the ground running a song from 1986 which was a huge success, and so was the music video, but it was eventually banned out of fear that the stop-motion filming style could cause epileptic seizures. This is Wang Chung "Everybody Have Fun Tonight"
From 1987 Icehouse "Electric Blue" If you know the proper way to eat a strip of candy dots so you don't wind up eating half the paper, If Pepsi Crystal seemed like a remotely good idea, or if New Coke happens to ring any bells, then this is the place for you It's the 80's at 8, from 1982, Duran Duran with "Rio"
From 1981 Billy Vera & The Beaters "At This Moment" If you could name off all of the original My Little Ponies, If you've ever had nightmares involving a giant Stay Puff marshmallow man, and if you can remember sporting a baseball hat with a bill ten miles long, then make yourself right at home it's the 80's at 8 and from 1984 Bananarama "Cruel Summer"
Here is the answer to the timeline, In which year did the following things occur?
The Soviet Union took a huge step forward in the space race by completing the Mir space station.
An Alien Life Form better known as ALF crash landed in the Tanner's suburban garage and stayed there for four years.
Fievel Mouskewitz set out to discover a land where the streets are paved with cheese in An American Tale, in 1986 And in that same year Prince released his third #1 hit, and he didn't even originally write the song for himself! Here's Prince with "Kiss"
From 1982 The Motels' "Only the Lonely" If you remember drooling over Mathew Broderick's computer setup from war games, If you're on a mission and you're wishin someone could cure your lonely condition, or if you remember thinking that Floppy Disks WERE THE GREATEST THINGS OF ALL TIME, then don't touch that dial, it's the 80's at 8, and up next, from 1985 Loverboy "Lovin' Every Minute of It"
From 1982 the Go-Go's "Vacation" If the number of phone numbers you remembered is more than the added numbers of your average phone number, If you remember thinking that nothing was more fashionable than high-hip waists, and if yes, you hoolah-hooped as a kid and, yes, you were good at it!, then relax and enjoy, it's the 80's at 8, and Coming up next, from 1983 The Thompson Twins "Hold Me Now"
From 1981 Quarterflash "Harden My Heart" If you remember lying on the grass as a kid with Sun-in in your hair, If you remember having no option other than sunbathing if you wanted that skin to glow, and if you think that smoke and lasers are the best possible option in any given situation, then this is the show for you. It's the 80's at 8, and from 1985 Howard Jones "Things Can Only Get Better"