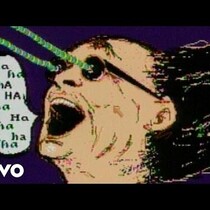 Posted October 2nd, 2013 @ 8:37am
Thanks for visiting the 80's at 8 blog, updated daily with each day's show content and the music videos for all the songs we played! If you would die before you put Baby in a corner, if you ever invited anyone to say hello to your little friend, If you always wanted to say "your not ready for that yet. But your kids are gonna love it", or if you know that there is no Dana, only Zuul, then you have come to the right place this is the 80s at 8, and were starting off today's show with a song from 1986 that may have played at your graduation party but was actually about the Cold War and a couples preparations for the end of the world. Here's Timbuk 3 "The Future's So Bright (I Gotta Wear Shades)"
From 1987 Crowded House "Something so Strong" If you still look for opportunities to bust out the old keytar, if you still think that starbursts are a pale imitation of bonkers, or if you snuck a copy of "Are you there god? It's me, Margaret" to school in your backpack, which was only cool if it was slung over just one shoulder, then this is the show for you, it is the 80s at 8, from 1983 The Fixx "One Thing leads to Another"
From 1982 Duran Duran "Hungry Like the Wolf" If you remember saving for two weeks to go to the record store to pick up some fresh vinyl, if your closet contained two or more denim jackets, one of which was acid washed, or if you've screamed NO WHAMMY in real life situations, this is the place for you, it is the 80's at 8, from 1984 The Pet Shop Boys with "West End Girls"
Here is answer to the timeline, in which year did the following things take place?
Weird Al Yankovic took aim at Michael Jackson and picky eaters everywhere with his parody of Beat it.
Alex Trebek challenged his first contestant to answer in the form of a question as host of Jeopardy.
City kid Kevin Bacon showed an uptight preacher and a town yearning for excitement how to cut Footloose in 1984, and that year, this song from Cyndi Lauper was included on the Parents Music Resource Center's "Filthy Fifteen" list, due to its sexual lyrics; and it led to the creation of the Parental Advisory sticker, here's "She Bop"
From 1982 Stray Cats "Rock this Town" If you miss the days when John Travolta had never heard of Scientology and just wanted to dance, if your fondest childhood memory is when Skippy got his head stuck in the banister, or if sometimes, just for the heck of it, you wear your sunglasses at night, you're in the right place, this is the 80's at 8, from 1989 the Fine Young Cannibals "She Drives Me Crazy"
From 1984 Glen Frey "The Heat is On" If you were the idiot who cut yourself with a Slap Bracelet and and got them banned from the schools, If you ever longed to earn your Stripes with Bill Murray and John Candy, or If you ever conned your way into a fancy restaurant as Abe Froman, Sausage King of Chicago, this is the show for you, from 1981 Hall & Oates "You Make My Dreams"
From 1984 Wang Chung "Dance Hall Days" If you ever dialed 860 in front of that famous number and asked to speak to Jenny, if you ever tried a milk and Pepsi because Lavern drank them, or if you ever wish Dr. Heathcliff Huxtable himself would just stop by for a Puddin' Pop, this is the show for you, it is the 80s at 8, from 1982 Madness "Our House"